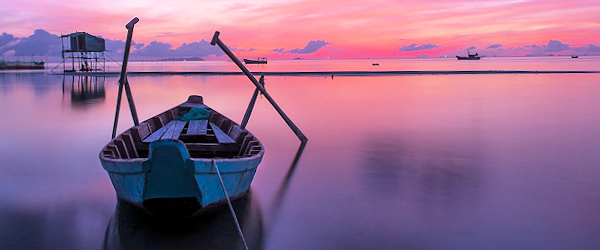 Ernest Hemingway's epic story of Santiago, an experienced old fisherman determined to change his luck by sailing into the deep sea with the goal of making the biggest catch of his life, is one that shares with us so many enriching lessons on life, but also on leadership.
On the most intense and vivid passage of the novel, our lonely hero struggles at sea for three gruesome days against a giant marlin in a live-or-die battle that will bestow the greatest personal triumph for Santiago.
Here's my take on the 7 most valuable leadership lessons Ernest Hemingway shares on this masterful narration.
1. Knowledge is more Powerful than Strength
In preparation for his journey, Santiago tells the young boy and loyal assistant Manolin, "I may not be as strong as I think, but I know tricks and I have a resolution."
Understanding his surroundings at sea, the behavior of wind and weather patterns, the time of day, and the different combative movements of the fish once caught in the line, helped Santiago be more strategic, resourceful, and wise on his decisions to dominate the strength of the marlin.
If he had used only his strength, he would have gotten weak and exhausted very quickly unable to defeat a bigger, faster, and stronger fish, and would have eventually failed.
2. You can't do Everything Alone
At several times during the epic struggle, the solitary Santiago wishes his young friend Manolin was present to help him. Particularly the boy could have assisted him as he got tired and needed to rest, or when he started feeling severe cramps.
Once the giant marlin was caught and secured on the side of the skiff, Santiago had to repeal several aggressive shark attacks on the marlin. Having a helping hand could have prevented the unfortunate ensuing damage.
3. Respect your Rivals
Even though the old fisherman fully understands the rivalry he is facing against the marlin, he never humiliates the big noble fish. Quite the opposite, Santiago has a deep admiration for the marlin's dignity and beauty, and often refers to the fish as his brother and friend.
In fact, after having caught and killed his worthy opponent, there are instances of regret where Santiago feels sorry for what he has done. But self-reflecting about his place in life gives him some peace:
"You were born to be a fisherman as the fish was born to be a fish… You did not kill the fish only to keep alive and to sell for food. You killed him for pride and because you are a fisherman. You loved him when he was alive and you loved him after."
4. Fight with what you have
As the old man embarks on his return with his big catch, the fight is not yet over. He now must battle with sharks wanting to eat his fish and ruin his extraordinary conquest.
Having lost his harpoon and realizing his unfavorable situation, Santiago wishes he had a stone for his knife and were better armed. But he couldn't stop in the middle of the fight to think how he could have done better.
"Now is no time to think of what you do not have. Think of what you can do with what there is."
It is useless to spend any time on the "what ifs" and better to focus on maximizing your resources and abilities.
5. Don't Rely on Luck
Additionally, we hear "luck" mentioned a couple of times throughout the book. As the old man embarked on his adventure, he thought to himself while at sea, "It is better to be lucky, but I would rather be exact. Then when luck comes you are ready."
Even though luck is always welcome, we can't depend on luck to help us come out victorious. However, readiness and determination are more likely to get us there.
6. Be Inspired by a Hero
Santiago loved baseball, and he idolized the Yankees' star Joe DiMaggio. The old man identified with him personally, not only because he was the son of a poor fisherman, but because DiMaggio also struggled with a serious injury in his career before making a triumphant comeback.
Thinking of the great DiMaggio during his brutal fight gave Santiago the motivation and confidence he needed to endure his hardship at sea.
7. Never Give Up
The old man had gone eighty-four days without catching a fish, but this didn't deter him. On the contrary, it gave him the courage to try harder and risk it all by going into the deep sea, where no other fisherman had gone.
Santiago then braved the match of his life catching a giant marlin; an insurmountable accomplishment he earned through patience, intelligence, skills, and determination. If this wasn't enough, on his return he heroically confronted a shiver of sharks who ultimately devoured his fish, leaving only the meatless skeleton from tail to nose.
But losing the fish meat was no longer relevant. During his battle against the sharks, he tells himself, "man is not made for defeat… a man can be destroyed but not defeated."
The old man returned to land with the giant carcass tied on the side of his boat, and his triumph duly recognized as the people in town were astonished to see the largest catch ever made.
8. Dreams of Lions
I'll add an eighth lesson, which is related to life more than leadership. The old man frequently dreams of lions, referring to a time in the past when he was a young boy sailing in Africa mesmerized by seeing lions on the beaches.
This was a time of his life when he felt happiness and pride. The symbolism Hemingway uses here is obvious as a group of lions is called a pride.
The sea as with life, is a place full of risks and rewards, where we can find our hopes and fulfill our dreams, where we find our friends and our enemies, where we can fail or come out triumphant.
Life is made of memorable moments and it's important to focus and continue creating moments that bring value to our lives, that make us better people, that give us the opportunity to love and improve the lives of those around us, and that give us a sense of accomplishment and happiness.
For when we reach the end of our lives, we can look back and say, "well done."